Now that you have your
cake set
, you need to dress your lovely ladies for the occasion!
Step 7: Find bridesmaid dresses.
Sung Boutique
did the bridesmaid dresses for the Phantom of the Opera wedding, and posted the
exact styles
they give the bride as choices in the show.
You can buy the exact styles, however each one will cost you at least $200 each... XP
So I'll list each dress with it's price and then list some more affordable alternatives I found.
Dress 1: Black Lace Prom Dress on sale for $192
:
Affordable alternatives:
-
Roberta Jacquard Gown
from the
BonTon
, $98: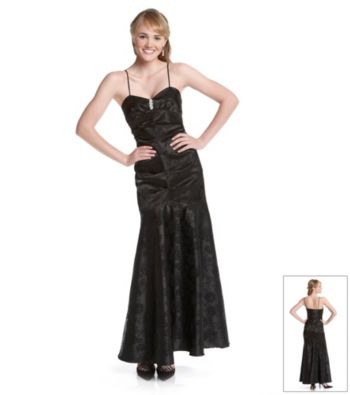 Yes, it is not as fancy looking as the original, but it does have a bit more going for it than a regular, trumpet style bridesmaid dress. It has a pretty flower pattern, elegant style, and with the little bits of ruching on the top, it should look decent on all your bridesmaids.
-
Black Evening Gown
from
Formal Gallery
, found by
Sears
, $149:
Now while it's only $43 less than the original, this has the same sort of dramatic playfulness and texture the Sung dress has! I kinda love this dress, very elegant and romantic and just plain gorgeous!
Dress 2: Black Gold Lace Sequin Evening Dress on sale for $248
:
Affordable alternative:
-
Black Prom Evening Gown
from
Formal Gallery
, found by
Sears
, $139:
Being such a unique dress, I was so happy to find something quite similar to the original! Also being the most expensive of the three dresses, I was happy to find a dramatic yet romantic gown for over $100 less! Woot.
Dress 3: Wine Strapless Tafetta Evening Gown for $196
:
Affordable alternatives:
-
Satin Bandage Gown with Crystal Pin
from
Amazon
, $79.99:
This is very, very similar to the original, simple, elegant lines with a touch of bling. The only thing this dress is missing is the true trumpet silhouette, however with that gorgeous ruching I feel that will not be missed :)
-
Strapless Ball Gown
from
Amazon
, $93:
This does not have the same bling as the original, however the silhouette of the dress is very similar. Very elegant, perhaps a bit too detailed, but for $93 each, this will make your maids' wallets much happier.
Once you ordered the dresses, accessorize your maids with pearl necklaces and earrings, and you're all set! Don't worry about getting real pearls, your maids *shouldn't* mind and it will help everyone save money!
Cost for bridesmaid dresses and accessories = varies
I put varies because the cost of bridesmaid attire for the bride will be a personal choice. You may pay for their dresses, or may chip in a set amount for each maid. You may give them their accessories as gifts, or just one special component. You may have other ideas for bridesmaid gifts. So this is really entirely up to you.
Now that your bridesmaids are all pretty, it's your turn! We go on to
Step 8: The bride's dress
!!!